Castlehead High School > School > Anti-Bullying and Equalities Policy
---
Anti-Bullying and Equalities Policy
November 2018
(Version 5: Revised August 2020)
Our commitment

All pupils and staff have the right to feel happy, safe and included. The school's values are: Confidence, Learning, Success, Positivity, Resilience, and Honesty, all of which are unpinned by the final values of Respect.
The vision for Scotland's Children is that all children should be confident individuals; effective contributors; successful learners; and responsible citizens. In order for these outcomes to be achieved, children should be: safe; healthy; achieving; nurtured; active; respected and responsible; and included. Castlehead High School is fully committed to Getting it right for Every Child.
As a school we recognise the right of all pupils to an education, in an atmosphere of security, in which all pupils feel equally valued. We aim to create a climate in which everyone is respected, regardless of race, class, religion, gender, physique, appearance or ability. We will address all aspects of prejudice in order to make sure all types of prejudice-based bullying are treated with equal importance.
The Equality Act 2010 sets out rights which include legal protection from discrimination related to any of the nine protected characteristics.
Age
Disability
Race
Sex (Gender)
Pregnancy/Maternity
Religion/Belief
Sexual orientation
Marriage/Civil partnership
Gender reassignment
Bullying of any kind is unacceptable and must be addressed quickly. Bullying should never be seen as a typical part of growing up. We will seek to understand the experiences, and address the needs of children and young people, who are bullied as well as those who bully within a framework of respect, responsibility, resolution and support.
​
It is agreed that every member of the school community has an important part to play in ensuring discrimination, prejudice and bullying is recognised and dealt with effectively. The ethos of the school is based on mutual respect and valuing diversity; underpinned by our core values: Confidence, Learning, Opportunity, Respect and Skills for life.

The aim of the Anti-Bullying and Equalities policy is to encourage a safe and supportive ethos within the school for all pupils and to ensure that every member of the school community understands their role in tackling prejudice and bullying.
Action Against Discrimination
We can do something voluntarily to help people with a protected characteristic. This is called 'positive action'.
Taking positive action is legal if people with a protected characteristic:
are at a disadvantage
have particular needs
are under-represented in an activity or type of work
At Castlehead High School, we also expand these protected characteristics to include pupils undergoing gender transition and transgender identities in general. In addition, our anti-bullying policy is designed to ensure and protect the equality of those of particular faith groups, Care experienced Children, Young Carers and children and young people from with low socio-economic status
Definition of Bullying
"Bullying is both behaviour and impact; the impact is on a person's capacity to feel in control of themselves. This is what we term as their sense of 'agency'. Bullying takes place in the context of relationships. It is behaviour that can make people feel hurt, threatened, frightened or left out. This behaviour happens face to face and online.

This behaviour can harm people physically or emotionally and, although the actual behaviour may not be repeated, the threat may be sustained over time, typically by actions, looks, messages, confrontations, physical interventions, or the fear of those"
(Respect for All 2017)

While one off incidents must be dealt with sensitively, and with understanding of the impact on those involved, they are not considered to be bullying. We know that children and young people will fall out and disagree with each other as they form and build relationships; this is also not considered to be bullying. This is a normal part of growing up and most children and young people have the ability to bounce back from this type of behaviour.

Bullying can take many forms. It can include;
Being called names, teased, put down or threatened
Being hit, tripped, pushed or kicked
Having belongings taken on damaged
Being ignored, left out or having rumours spread about you
Sending abusive messages, pictures or images on social media, online gaming platforms or phone
Behaviour which makes people feel like they are not in control of themselves or their lives
Being targeted because of who you are or who you are perceived to be
Bullying can take place face-to-face or online. Online bullying, or 'cyberbullying' should not be treated differently to face-to-face bullying.

Nowhere in this policy will you find the words 'bully' or 'victim'. Labelling a pupil with either of these terms is not helpful. It is not helpful in the resolution of the situation or in reducing the feelings for those involved. Instead, reference is made to those 'experiencing bullying behaviour' and those 'displaying bullying behaviour'. Pupils on both sides of the incident will need support to ensure a successful and lasting resolution.
Online Bullying
Online bullying or cyberbullying, is often the same type of behaviour as other bullying but takes place online. The impact of this is as hurtful and damaging of other forms of bullying behaviour.

Whilst advances in technology, including social media, provide many possibilities to enhance learning and teaching, all members of the school community should be alert to its possible misuse.

Some online behaviour is illegal. Children and young people need to be made aware of the serious consequences of posting inappropriate or harmful content on forums, websites, social media etc. More information relating to cyberbullying can be found at: www.respectme.org.uk/cyberbullying.html
​
Prejudice Based Bullying
Bullying behaviour may be a result of prejudice that relates to perceived or actual differences. This can lead to behaviour and language that could manifest into racism, sexism, homophobia, biphobia or transphobia or prejudice and discrimination towards disability or faith.

Prejudice-based bullying is when bullying behaviour is motivated by prejudice based on an individual's actual or perceived identity; it can be based on characteristics unique to a child or young person's identity or circumstance such as:
Additional Support Needs
Age
Asylum seekers and refugees
Body image and physical appearance
Disability
Gender identity
Sexual orientation
Sexism and gender
Race
Gypsy/travellers
Looked after children and young people
Religion or belief, including sectarianism
Socio-economic prejudice
Young carers
This list is not exhaustive and could include any other aspect of difference
The Impact of Bullying
Bullying can have both long and short-term effects on the physical and mental health and wellbeing of children and young people. The impact of bullying behaviour may lead to health issues, reduced self-confidence, poor or non-attendance at school, withdrawal from normal activities, loneliness, anxiety or depression, tearfulness, humiliation, feeling unsafe or fearful, changes to behaviour and/or physical appearance, aggression, demonstrating bullying behaviour towards others, eating disorders and self-harm/suicidal thoughts.

Bullying behaviour impacts on children's and young people's wellbeing and can affect their participation, attainment and inclusion.
Creating a Positive Ethos
Developing a positive ethos, culture and positive relationships are at the centre of ensuring excellence and equity for all.

Within the school we set a positive ethos by:
Promoting equality and celebrating diversity
Developing a culture of mutual respect and responsibility amongst all members of the school community
Giving explicit and consistent messages that prejudice, discrimination and bullying are unacceptable
Seeking agreement on what bullying and discrimination are
Reviewing school life to identify any factors which might allow or encourage prejudice or bullying
Raising Awareness
It is important the Anti-Bullying message is kept at the forefront of everyone's mind in order to promote Castlehead's Anti-Bullying ethos. This is achieved in the following ways:
– Promoting our core values
– Addressing issues of equality across the curriculum
– Coverage in PSE/Lifeskills courses
– Peer Mentoring initiatives (Senior mentoring, A.Y.S, Hearty Lives etc.)
– Pupil Council
– Visual reminders such as posters
– Talks from external agencies/partners
– Anti Bullying events/activities
– Working in partnership with partners such as Police, Respectme, LGBT Youth Scotland, I am me and show racism the red card
Pupil Support
All pupils in Castlehead High School benefit from having a Pupil Support Teacher who is committed to their Pastoral Care and Personal and Social Education. The Pupil Support team work hard to build strong relationships with the pupils on their caseload.
Pupils are encouraged to report any incident to their Pupil Support teacher or indeed to any other member of staff or their parent/carer. The Pupil Support team are very accessible to pupils in their care out with class and have weekly class contact with them during timetabled PSE/Lifeskills classes.
PSE (Personal and Social Education)
Pupils are expected to behave in a responsible, courteous and supportive manner towards one another. The issues of equalities and bullying are addressed by Pupil Support teachers with Primary 7 pupils as part of the transition visits. On arrival in Castlehead these pupils are given advice and informed of the procedures for dealing with bullying. This advice is consolidated in the S1 Lifeskills/PSE course.

The issues of equality, discrimination, stereotypes and prejudice are addressed in a progressive manner throughout the Lifeskills/PSE programme. The programme includes questionnaires, videos, role play and group discussions. The main aim is to raise pupil awareness and equip pupils with skills and resilience to challenge and combat these issues.
Mentors in Violence Prevention (MVP)
MVP is a senior mentoring programme which is an approach to gender violence and bullying prevention. MVP trains students to speak out against bullying, sexual harassment, dating violence and all forms of violent, abusive behaviour. MVP focuses on a bystander approach that empowers each pupil to take an active role in promoting a positive school climate. Within the MVP programme young people are identified not as victims or perpetrators but as empowered bystanders able to support and even challenge abusive and bullying peers. Pupils are provided with a range of safe options which can prevent situations from escalating.
Paired Reading
We have a well-established Paired Reading Club, now in its 25th successful year at Castlehead. Which aside from further developing reading skills and extending a child's reading experience, has also been credited with building self-confidence, resilience and making the transition from P7 to secondary smoother.

We have found that all 1st and 2nd year pupils who have regularly attended, have enjoyed taking part and have built up friendships with their senior partners. Our senior peer mentors have also been able to help and offer advice with any anxieties or concerns (such as bullying) expressed by junior pupils.
Role of All Staff
All staff will endeavour to ensure that pupils work within a safe, positive and purposeful school environment. Class teachers ensure that the atmosphere within their classrooms is such as to promote equality and encourage positive relationships. Any incidence of bullying will be dealt with and information passed to the relevant Pupil Support Teacher who will talk to the children involved and to their parents as appropriate. Pupil Support staff will offer counselling, strategies and advice to pupils involved in either experiencing or displaying Bullying Behaviour. Parents will be involved as appropriate and in certain cases advice and support from external agencies will be sought.
Reporting Bullying Incidents – Pupils
Any pupil who has a concern regarding bullying must report this to a member of staff.
Pupils can:
– Tell their pupil support teacher
– Tell any member of school staff that they feel comfortable telling
– Tell someone at home
– Visit the 'Respect Me' website: www.respectme.org
– Contact Childline (0800 11 11)
Reporting Bullying Incidents – Parents and Carers
Communication between the home and the establishment is crucial to ensure that no child or young person is unduly affected by bullying behaviour. Parents/Carers should contact the school as early as possible if their child is being bullied, or they suspect this is the case. Parents/Carers should contact their child's Pupil Support Teacher in the first instance. These are:

Mrs Abercrombie (Maxwellton)
Miss Mochan (Oakshaw)
Mrs Duggan / Miss Campbell (Camphill)
Ms McFarlane (Harris/Targeted support)

The above staff can be contacted on 0300 300 1300
Children and Young People Experiencing Bullying Behaviour
Support for children and young people affected by bullying behaviour is essential both immediately following the incident and during an agreed period of review. Peer support, staff support, parental support and support offered by partner agencies can all play a vital role in ensuring the child or young person does not suffer from any long term damage. What might seem trivial to an adult can cause serious psychological damage to a child or young person and to their wellbeing. The school will offer support to anyone experiencing bullying behaviour by:
Creating a climate where it is safe to be involved in reporting of bullying incidents
Reassuring them that they are not to blame
Providing additional support where appropriate
Encouraging friendships and supportive peers
Developing restorative practices
Creating systems for early identification of vulnerable children and young people.
Involve Parents/Carers; both to keep them informed of the support that is being provided for their Child and what action(s) the school is taking with the pupils who have displayed the bullying behaviour and their Parent/Carers involvement in the process
We will talk to pupils who have experienced homophobia, biphobic and transphobic bullying, and ensure that any steps to resolve bullying includes them. There will be a sensitive approach to ensure that any disclosure does not 'out' the pupil to others.
Definitions that are helpful when considering issues in regard to the above forms of bullying are as follows:

Sexual Orientation & Homophobic Bullying: Bullying based on sexual orientation is motivated by a prejudice against lesbian, gay or bisexual (LGB) people. It is also commonly referred to as 'homophobic bullying' but can also be expanded to recognise the specific experiences of bisexual young people using the term 'biphobic bullying'.

Children and young people do not necessarily have to be gay, lesbian or bisexual themselves to experience 'homophobic bullying'. This type of bullying may be directed towards young people perceived to be lesbian, gay or bisexual young people; those that do not conform to gender norms and/or expectations; and those who have gay friends or family. Children with LGBT parents may also experience homophobic bullying. Although homophobic bullying is distinct from sexist and transphobic bullying, it is related to these forms of bullying through underlying sexist attitudes.

The term 'transgender' is an 'umbrella term' for those whose 'gender identity' or expression differs in some way from the gender that was assigned to them at birth. Gender identity reflects an individual's internal sense of self as being male, female, or an identity between or outside the two.

Transgender people face significant societal prejudice, largely because they are perceived as not conforming to gender stereotypes, expectations and norms. As a result, transgender or gender 'variant' children and young people can be particularly vulnerable to bullying. This can manifest in many ways, including transphobic and homophobic name calling or deliberately mis-gendering them. An individual may also experience transphobic bullying as a result of a perception that a parent, relative or other significant figure is transgender.


Children and young People displaying bullying behaviour

Consideration is given to both the discipline and support given to children and young people. Disciplinary procedures against them are intended to change or modify behaviour rather than label anyone as a bully. Bullying behaviour can be changed by:
Ensure children and young people who display bullying behaviour are accountable for their behaviour
Positive behaviour strategies
Referral to extended Support Team (EST)
Involvement of other agencies and services such as Home Link, Educational Psychology, Life Link Counselling, School Nurse
Sanctions in line with Behaviour Management policy
Withdrawal of privileges
Behaviour monitoring sheet
Restorative meeting/conversation
Peer mentoring
Enabling children and young people to reflect on their behaviour and the impact it has on other
Helping children and young people communicate and manage conflict more effectively
Dealing with a referred incident

Any member of staff may be involved in investigating an incident or a report of bullying. A report should be taken seriously and acted upon. The key to resolving any incidence of bullying is to ensure similar incidents do not occur.

If a member of staff is given information by a victim or third party, they should record the information and pass it quickly to the relevant PT Pupil Support. The standard logging form should be used (APPENDIX 2a) This is available from the school office. Concerns may also arise from Pastoral Concern forms. Additionally, a report may be made by a parent or carer.

All reported incidents must be investigated timeously. Delays in dealing with the incident should only occur when reported at the end of the school day. The maximum time to carry out a full investigation is three working days. If a delay is unavoidable and the incident involves a child or young person, a letter should go home with the individual who has made the allegation, stating that the matter is under investigation.

In the first instance professional judgement should be used in deciding appropriate action. If there is uncertainty about this, staff should consult with the relevant year group DHT, or DHT Pupil Support.

Initial actions may be counselling for both pupils experiencing and displaying bullying behaviour. This can be done either individually or together, taking a Restorative Approach. The pupil experiencing bullying behaviour should be interviewed within an agreed time to see if the problem has been resolved. In this case the standard logging form should be completed, without a reference number and kept on file.

If the investigation shows further action needs to be taken against the pupil displaying bullying behaviour then:
It must be explained that the incident will be recorded
Parents must be contacted and/or interviewed
If necessary, depending on the severity of the circumstances, the police may be notified
In this case, the standard logging form should be completed, assigned a reference number and held by the DHT Pupil Support (copied to relevant pupil files). The DHT Pupil Support will also log the incident on SEEMIS in line with Local Authority Guidance.


Checklist (for Guidance) when investigating an incident
Who was involved – is there a child or children affected by the incident? If so who is it or are they?
In what way did the children or young people affected by the incident suffer?
How did the incident start? Was it spontaneous or premeditated?
What is alleged to have happened, from the perspective of all those involved?
When did the incident take place?
Where did the incident take place?
Who witnessed the incident (pupils, parents, staff and others)?
Who reported it to whom and when?
Is there any background to this incident?
Why do you think this has happened?
Is there any other reason for considering this to be bullying behaviour?
Why does the reporter or investigator of the incident perceive this to have been a bullying incident?
To what extent did the incident affect others?
What was the response of the children or young people affected, if such? exist?
What does/do the child or children or young people affected wish to see resulting from the investigation?
Have parents been contacted?
Should the incident be reported to the Police and is there a need to gather evidence for example, CCTV, mobile phone images etc.
Recording of incidents

To ensure consistency, a proforma has been devised for the recording of incidents at school level. A copy is included in APPENDIX 2a along with guidance for members of staff and senior management. The DHT Pupil Support will also log incidents of bullying SEEMIS in line with Local Authority Guidance.

The proforma is not intended for use in recording every isolated incident of inappropriate behaviour. If, on initial investigation, the accusation of bullying appears to be confirmed, the incident must be recorded.

Incidents must be recorded on the proforma when any of the following factors are present:
Children or young people have already been made aware of the unacceptable nature of their behaviour through a verbal reprimand
The behaviour is predetermined or calculated
The safety of children or young people have been threatened
There is a clear intent to bully
Bullying incidents are carefully monitored and reported annually

DHT (Pupil Support) is responsible for the recording and overseeing of incidents and embedding tackling bullying in the policies and practices of the school.

Bullying can happen in any school. It is essential that all schools are alert to this and are extra vigilant in identifying incidents of bullying, ensuring they are dealt with and recorded. Recording of the action taken during and after the investigation of an incident using APPENDIX 2b, will provide evidence that the school is following the education authority's guidelines and responding appropriately. The validity of the information contained in the monitoring returns will depend on the effective and consistent use of the education authority's recording form and procedures.
---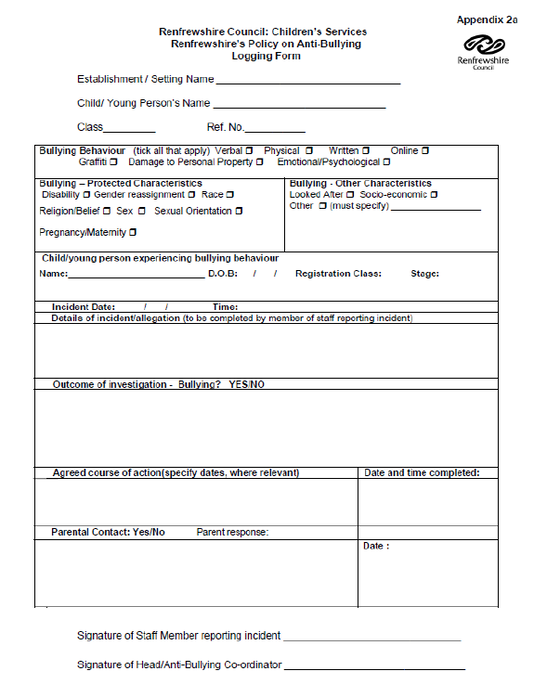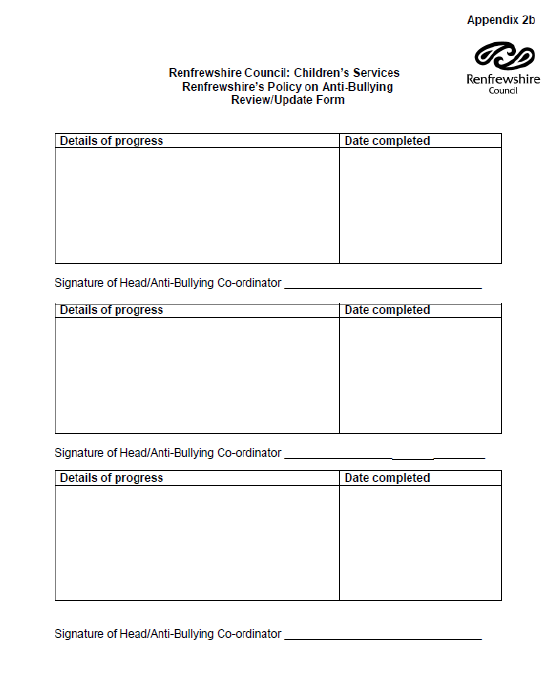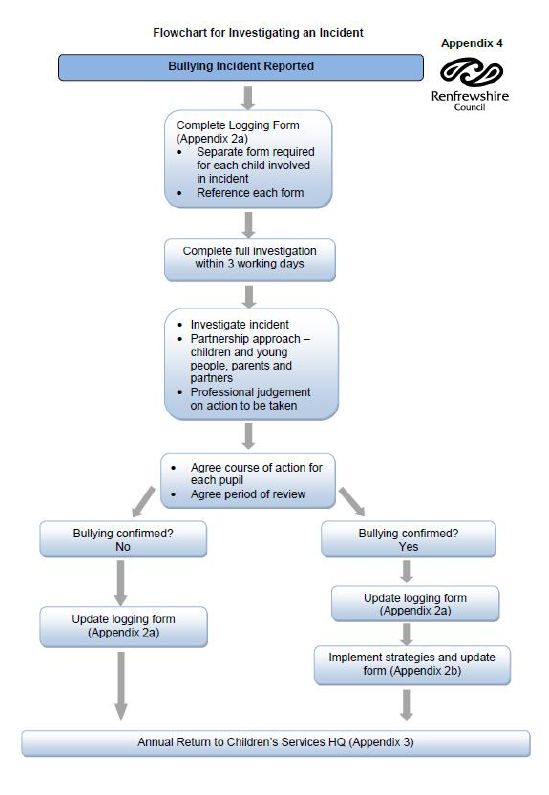 Useful Contacts
Parent Line Scotland – Free confidential helpline 0808 800 2222
Mon/ Wed/ Fri 9am-5pm
Tues/Thurs 9am-9pm
ChildLine Bullying: 0800 1111
Bullying Line Scotland: 0800 44 1111
Useful Websites
www.respectme.org.uk
www.anti-bullyingalliance.org.uk
www.bullying.co.uk
www.chatdanger.com
www.childline.org.uk/info/pages/bullying.aspx – for children and young people
www.childnet-int.org
www.children1st.org.uk
www.digizen.org – deals with cyber bullying
www.kidscape.org.uk
www.kidsmart.org.uk
www.thinkuknow.co.uk – child protection on the internet